Consolidation Corner Blog
Consolidation Corner is the Retirement Clearinghouse (RCH) blog, and features the latest articles and bylines from our executives, addressing important retirement savings portability topics.
---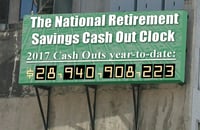 In 1989, New York real estate developer Seymour Durst wanted to highlight America's rising national debt, and came up with an idea: the National Debt Clock. Since then, the National Debt Clock has had a physical presence as a billboard near Times Square, serving as a constant reminder to Americans of their government's ever-growing debt.
Read More