Consolidation Corner Blog
Consolidation Corner is the Retirement Clearinghouse (RCH) blog, and features the latest articles and bylines from our executives, addressing important retirement savings portability topics.
---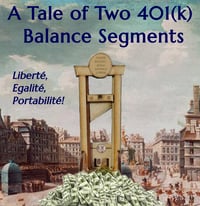 It was the best of times, it was the worst of times.

For job-changing 401(k) participants with balances greater than $15,000, it was the spring of financial wellness, as the bulk of their retirement savings would remain intact. For less-aristocratic 401(k) savers with balances below $15,000, it was the winter of despair, as most of their savings would be lost on the cashout chopping block or forcibly exiled to a safe harbor IRA, where more savings would perish.
Read More