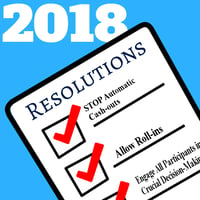 How are you hoping to improve yourself in 2018?
The most common New Year's resolutions usually have to do with personal appearance, health, or behavior—losing weight, exercising more, dieting, quitting smoking, etc. Popular polls indicate that many of us are after a slimmer, fitter body for ourselves after each New Year's Day.
Similarly, defined contribution plan sponsors are likely thinking about how they can make their plans more attractive and streamlined in 2018.