Consolidation Corner Blog
Consolidation Corner is the Retirement Clearinghouse (RCH) blog, and features the latest articles and bylines from our executives, addressing important retirement savings portability topics.
---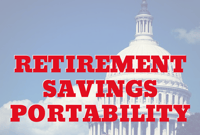 On May 13, 2021, the U.S. Senate's Committee on Health, Education, Labor and Pensions (HELP) held its first hearing on retirement security since 2013. With testimony from a blue-ribbon panel of witnesses, the hearing had a broad focus, but the topic of retirement savings leakage, and its most-promising solution, auto portability, were prominently featured.
Read More