Consolidation Corner Blog
Consolidation Corner is the Retirement Clearinghouse (RCH) blog, and features the latest articles and bylines from our executives, addressing important retirement savings portability topics.
---
Recent Posts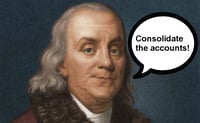 When Ben Franklin coined the adage "an ounce of prevention is worth a pound of cure" he wasn't considering the problem of missing participants, but 401(k) plan sponsors would be wise to heed Ben's sage advice.
Today, plan sponsors face an explosion of missing participants, driven by the ongoing adoption of auto enrollment and increasing workforce mobility. Their problems are further compounded by the administrative burden required to locate them, combined with a regulatory minefield that offers little guidance and is prone to taking inconsistent enforcement actions.
Read More