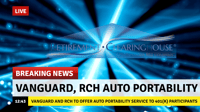 In a press release issued 9/21/21, The Vanguard Group ("Vanguard") announced it has engaged with Retirement Clearinghouse (RCH) to introduce the RCH Auto Portability program to their defined contribution plan sponsor clients in mid-2022.

Vanguard is one of the world's largest investment management companies. As of July 31, 2021, Vanguard managed $8.1 trillion in global assets. The firm, headquartered in Valley Forge, Pennsylvania, offers more than 418 funds to its more than 30 million investors worldwide.

With this announcement, Vanguard joins RCH's Auto Portability program, whose membership also includes Alight Solutions, to help millions more Americans preserve their savings and improve their retirement outcomes.

About the Announcement
The announcement included statements from Vanguard's John James, Managing Director, Head of Vanguard Institutional Investor Group, from RLJ Companies Founder & Chairman Robert L. Johnson, and RCH President & CEO Spencer Williams.

Important Perspective
Vanguard's announcement is a major milestone in RCH's ongoing efforts to deliver seamless, plan-to-plan portability to America's defined contribution system. RCH Auto Portability has now been embraced by two of America's top ten defined contribution recordkeepers, collectively serving almost 10 million employees.

The momentum towards widespread adoption of RCH Auto Portability is now undeniable, and RCH expects more announcements as leading defined contribution recordkeepers follow the examples established by Vanguard and Alight Solutions.

About Auto Portability
Auto portability is the routine, standardized and automated movement of an inactive participant's retirement account from a former employer's retirement plan to their active account in a new employer's plan. Conceived and developed by Retirement Clearinghouse, auto portability is designed to curb unprecedented levels of cash out leakage, dramatically improve participant outcomes, and to work within the established framework of an automatic rollover program in the qualified employer plan system.
Auto portability is supported by extensive research, which identifies its impressive benefits for America's defined contribution system, for service providers, for plan sponsors and, of course, for participants. RCH Auto Portability is further supported by enabling Department of Labor (DOL) regulation, including Advisory Opinion 2018-01A, and Prohibited Transaction Exemption 2019-02.