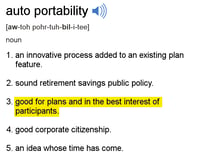 In this series, I identify five key reasons why an auto portability program serves the best interests of plan participants.

Previously, in Part 1, I examined the dramatically improved participant outcomes that will result from a program of auto portability.

In Part 2, I describe how auto portability, by enhancing and extending automatic rollover programs, represents an enhanced standard of care for participants.