Consolidation Corner Blog
Consolidation Corner is the Retirement Clearinghouse (RCH) blog, and features the latest articles and bylines from our executives, addressing important retirement savings portability topics.
---
Recent Posts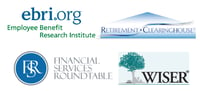 An upcoming event in Washington, DC, to be held on March 30th and hosted by the Financial Services Roundtable, promises to be both highly-interesting and informative, addressing the very latest in retirement plan portability research and development.

The event, Retirement Plan Portability & Public Policy: Unlocking the potential in portability, will take place at the Financial Services Roundtable's headquarters [map] from 10:30 a.m. to Noon, and is free to attend. Click here to view a full agenda.

Read More