Spencer Williams and Tom Hawkins
Spencer Williams is Retirement Clearinghouse's Founder, President and CEO. Retirement Clearinghouse is a specialized provider of retirement savings portability and account consolidation services for America's mobile workforce, including RCH's singular innovation, RCH Auto Portability, specially designed to help low income and minority workers.
Consolidation Corner Blog
Consolidation Corner is the Retirement Clearinghouse (RCH) blog, and features the latest articles and bylines from our executives, addressing important retirement savings portability topics.
---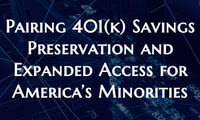 Over the past few years, we've written extensively about auto portability -- what it is, how it works and the significant, positive impact it will have on the retirement security of working Americans. Our positions have been supported by research, predictive models (including EBRI's RSPM) and real-world results from the initial implementation of auto portability.

In this article, we address an important retirement public policy question: How would a pairing of auto portability with open multiple employer plans (or "open MEPs") impact the retirement savings of America's minorities, and particularly, African-Americans?