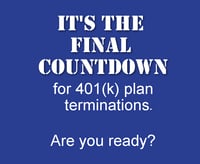 As we draw nearer to the 4th quarter of every year, many plan sponsors – for a variety of reasons – are faced with the prospect of a 401(k) plan termination. For most, this will be the first -- and only -- time that they'll undertake this important project.
If you're facing a plan termination in the current calendar year, time is not on your side. A properly-conducted plan termination can take up to 2-3 months from start-to-finish, and requires significant planning, flawless execution and lots of attention to detail.
A poorly-executed plan termination could result in your plan not being properly terminated -- or worse -- you could be facing an audit.
To assist sponsors in understanding the basics about terminating 401(k) plans, Retirement Clearinghouse has prepared a free, three-part video series, immediately accessible via the links below:
401(k) Plan Termination Video #1: One Project, Five Phases
Terminating a retirement plan can be daunting. There is a lot to do and if it's not done correctly, it will generate even more "to dos". To minimize the sense of being overwhelmed break down a plan termination into five smaller phases.
401(k) Plan Termination Video #2: Common Mistakes Plan Sponsors Make
Terminating a retirement plan is complicated. The importance of having a well thought out plan in place before beginning the plan termination process is imperative, because making mistakes can be costly. To better understand why plan sponsors were making mistakes in qualified plan terminations the IRS Employee Plans Compliance Unit conducted a "Termination Project" in 2011. Over 75% of the sampled sponsors made errors!
401(k) Plan Termination Video #3: Five Criteria for Selecting a Services Provider
Terminating a retirement plan takes a lot of work, a lot of planning and requires specialized skills. Not surprisingly, most fiduciaries choose to outsource plan terminations to service providers. Selecting an outsourced provider is a critical decision. To help simplify the process we suggest using five criteria.
For more information on plan termination, visit: https://RCH1.com/terminating-plans