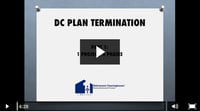 Retirement Clearinghouse (RCH) is pleased to offer the first educational video of a three-part series on DC plan terminations, presented by Mike Wilder, RCH's Vice President of Client Services. These videos are intended to provide plan sponsors with a basic understanding of key plan termination process steps, the common mistakes that are made by plan sponsors, and the key criteria for selecting a plan termination services provider. We hope you'll find these videos interesting & informative!
For more information, contact a Retirement Clearinghouse sales representative at sales@RCH1.com, or call us at (866) 827-9608.
Thanks for reporting a problem. We'll attach technical data about this session to help us figure out the issue. Which of these best describes the problem?
Any other details or context?
message
DC Plan Termination – 1 Project, 5 Phases

Terminating a retirement plan can be daunting. There is a lot to do and if it's not done correctly, it will generate even more "to dos". To minimize the sense of being overwhelmed break down a plan termination into five smaller phases.

Phase 1: Planning & Preparation

As with any project, good planning usually leads to good results. After the project is planned and the timeline is established, the first thing to do is amend the retirement plan. Things to remember in the plan amendment:
Establish a plan termination date
Include all changes in the law or plan qualifications that will be effective on the termination date
Cease plan contributions
Provide full vesting of benefits for all affected employees
Authorize distribution of all benefits in accordance with plan terms as soon as administratively feasible


Phase 2: Announcement & Notification

Proper communication to plan participants is mandatory. Make sure to include the following information in your notifications:
The decision to terminate the plan
When it will terminate
Resources available to help participants with their distribution, and how participants can take advantage of those resources
A 402(f) rollover notice, which includes an explanation of safe harbor and eligible rollover distributions


Phase 3: Locate missing participants

Inevitably, there will be participants who can't be located. The DOL's Field Assistance Bulletin 2014-01 specifically addresses four things a fiduciary must do to fulfill their obligations regarding missing participants. They include:
Use certified mail
Check related plan and employer records
Check with designated plan beneficiary
Use free electronic search tools


Phase 4: Distribute all plan assets

Because every participant in a terminating plan must be distributed, there is always a risk that your participants may elect to cash out, particularly those with smaller balances (<$20,000). Studies show that the majority of participants later regret cashing out their retirement plan savings during a job change or plan termination.

Make sure to emphasize the benefits of distributing to other qualified plans, and illustrate the high costs of cashing out, including taxes and penalties in your communications. If you are working with an outside provider to assist in your termination make sure they offer access to unbiased professionals trained to help participants during this critical time.

After all missing participant searches are exhausted and all voluntary distributions are taken, it's time to distribute the remaining assets into Safe Harbor IRAs. Remember, every penny must be distributed before the plan can be officially terminated. Select a Safe Harbor IRA provider that will take all balances. If you cash out the balances below $1,000 you will likely have lingering headaches due to uncashed or returned checks.

Phase 5: Final Plan Termination:

Once all plan assets have been distributed the last step is to file any applicable final Form 5500 series return.

Plan terminations are a big project, but if you break it down into five phases you should have little trouble.


Next video: Common Mistakes Plan Sponsors Make (part 2 of the three-part series)