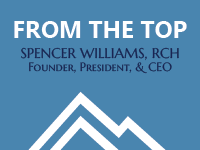 On July 31st, the U.S. Department of Labor (DOL) released the final Prohibited Transaction Exemption (PTE) to Retirement Clearinghouse (RCH) for the RCH Auto Portability program, completing the regulatory framework and clearing the way for auto portability's widespread adoption.

This new development represents an important milestone on the path to auto portability, a private-sector innovation that will help prevent 401(k) cashout leakage, increase plan efficiencies and improve the prospects of a timely, comfortable and secure retirement for millions of Americans.
The PTE, when originally proposed by the DOL in November 2018, received strong, unequivocal support from industry stakeholders. Now finalized, the PTE establishes important "guardrails" for RCH Auto Portability, and works in tandem with the DOL's Advisory Opinion 2018-01A, which clarified fiduciary obligations, including RCH's role as fiduciary when an inactive participant's small-balance retirement savings are automatically rolled into their current employer's plan.

A Private-Sector Solution to the Problem of Rampant 401(k) Cashout Leakage
Auto portability is a private-sector innovation in response to the problem of 401(k) cashout leakage, providing seamless portability for retirement plan participants, when they change jobs.

As Michael Kreps, Principal, Groom Law Group, and a highly-influential voice in DC on retirement public policy noted in an April 2019 LIMRA webinar, auto portability has the potential to deliver "an enormous boost to the industry and to participants in general." Kreps went on to characterize auto portability as "establishing a hub between recordkeepers, [and] would allow for the automatic movement of a participant's account into their new employer's plan." This approach, continued Kreps, has "a lot of utility -- obviously, having more efficiencies with the recordkeepers would be incredibly helpful and prevent a ton of leakage.

Stemming the Tide of Cashout Leakage
The cashout leakage problem is severe and requires action. Each year, 14.8 million, or 22% of all defined contribution plan participants will change jobs. Of these, 4.7 million, or 31%, will cash out their retirement savings completely within the first year after job change. Two-thirds of these cashouts are for reasons other than a financial emergency and could be avoided, based upon the findings of a 2015 mobile workforce study.

Fortunately, there's ample evidence that auto portability will deliver. In 2013, a case study at a mega plan sponsor proved that retirement savings portability can reduce post-separation cashouts by over 50%. Extending portability's benefits to America's defined contribution system, in March 2017, the Employee Benefit Research Institute (EBRI) found that as much as $2.0 trillion could be retained in the U.S. retirement system if auto portability were fully-implemented.

Adopting Auto Portability
Although auto portability relies upon complex financial technology, it was designed for easy plan sponsor adoption, complementing the tried-and-true automatic rollover process. When a job-changing participant becomes subject to an automatic rollover, auto portability works with participating recordkeepers to locate & match the forced-out participant in their current-employer's plan, and to automatically transfer their previous-employer's plan balance into their new plan via an automatic roll-in.

Finally, plan sponsors can be confident that adopting auto portability is acting in the best interests of their participants, as auto portability:

A Profound Impact on Our Retirement System
The DOL's comprehensive guidance on auto portability, now finalized, has clarified fiduciary obligations, established protective "guardrails" and created the conditions for a real and profound impact on American's retirement system.

We are grateful to the Department for promulgating this guidance.