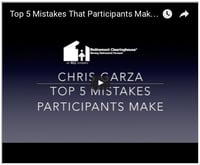 Chris Garza, RCH's Service and Consolidation Team Manager, provides insight into the top five mistakes that participants make when changing jobs.

Click the video below to watch as Chris counts down the list in detail.
#5 - Not coordinating the rollover documentation with the rollover distribution check.
#4 - Not getting rollover checks made out properly.
#3 - Not keeping prior employers updated with changes of address.
#2 - Leaving old accounts stranded.
#1 - Cashing out.