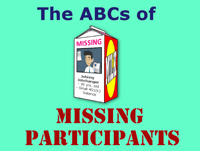 What is a Missing Participant?
A missing participant is a qualified plan participant who cannot be located by the plan for the purposes of executing transactions (ex. - required minimum distributions, distribution checks, etc.) or for whom mailings are consistently returned due to an incorrect address.
It's estimated that anywhere from 3%-6% of qualified plan participants are consider "missing" and requiring location.Missing participants can cause administrative burdens, increased plan costs and elevated fiduciary risk (ex. - missed mailings and uncashed distribution checks).
What Causes Missing Participants in Plans?
Changes of residence. American society is highly-mobile. Census data suggests that the average American will move almost 12 times over the course of a lifetime. In any given year, almost one out of every six Americans will relocate.
Changes in employment. According to the Employee Benefit Research Institute (EBRI), Americans will change jobs about 7.4 time, on average, over the course of a 40-year career. This means that anywhere from 9.5 to 11.3 million defined contribution participants will change jobs each year.
Early mortality. Mortality tables inform us that, on average, more than 16% of plan participants will die between the ages of 40 and 65. This means that one out of six participants will die prior to normal retirement age.
Why is it Important to Locate Missing Participants?
Keeping current addresses for plan participants is critical to providing participants with up-to-date plan information, including informing participants that benefits are payable, and to make required minimum distributions (RMDs).
Failure to establish and/or follow procedures to locate missing participants can be considered a breach of fiduciary duty, and – effective August 1, 2016 – plans can be subject to penalties of $28 per participant.
What are the Best Practices for Locating Missing Participants?
Initiate Periodic Data "Scrubbing" Efforts at Termination. The best solution is one that keeps participant data as up-to-date as practical, with the least cost and with minimal manual intervention. A periodic program of "scrubbing" participant data can begin as soon as a participant has terminated employment. An example of this approach is utilizing the National Change of Address (NCOA) registry, maintained by the United States Postal Service.
Utilize "Waterfall" Methodology with Credit Service Bureaus. Given that data "scrubbing" will not identify correct addresses for all missing participant scenarios, resulting in returned mail or failed transactions (ex. - required minimum distributions, uncashed or staled-dated distribution checks), we suggest employing a major credit service bureau to determine participant status. This approach utilizes a "waterfall" methodology that invokes additional searches, as needed, or required until the participant can be found or the services exhausted.
Engage Subscription-Only Legal & Journalistic Services. In specific states (ex. - Nevada) and for deceased participants, subscription-only legal and journalistic services such as Lexis-Nexis can be engaged. In the case of participants who have been confirmed as deceased, these searches can be particularly useful in locating next-of-kin.
Perform "Last-Ditch" Creative Searches. When the best practices above yield no results, locating missing participants becomes an art form, where success depends upon persistence and creativity applied in using the internet to locate a participant or to identify beneficiaries.
What to Look for in a Missing Participant Locator Service
Effectiveness. Missing participant locator services should have a high success rate. Service providers should be able to demonstrate 95%+ success rate in finding updated addresses for missing participants (or their beneficiaries).
Flexibility. Service providers should be able to offer you several different levels of service, depending upon your needs. Typically, an electronic search is suitable for most participant location requirements. Depending on the outcome of each search, additional electronic searches may be invoked (ex. – for deceased individuals), but only as necessary. In the case of terminating plans, the ability to send and monitor USPS certified mail is essential.
Affordability. With levels of separated participants averaging around 25% in most plans, it's essential that participant locator services be affordable.
Quick Turnaround. Once participant data is provided, a service provider should be able to provide very quick turnaround, particularly if the searches are electronic.
Reporting. Providing user-friendly and flexible reporting is essential to applying the results of the location search service.
Ease of Contracting. A missing participant locator service should have an easy-to-understand, straightforward services agreement that doesn't require extensive legal review or markup. The agreement should clearly specify the provider's responsibilities and work product.
For more information on the RCH Lost & Missing Participant service, download our service brochure here.
For More Information on Missing Participants
What is a Missing Participant?
Related Terms: