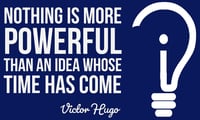 French author and poet Victor Hugo observed: "nothing is more powerful than an idea whose time has come."

In theory at least, plan-to-plan portability has always been a feature of our 401(k) system. In practice, it's been completely impractical for all but a hardy few. The idea of automating 401(k) portability was the holy grail, a 'moonshot' generally believed to be impossible…until now.

With the advent of auto portability, the era of fully-automated 401(k) portability has finally begun. As it moves from idea to reality, and ultimately extends from small-balance accounts to all balances, automated 401(k) portability will deliver benefits to the entire 401(k) ecosystem – including participants, plan sponsors and their service providers.

Auto Portability's Powerful Premise
Auto portability addresses a fundamental problem in America's defined contribution system – namely, that millions of retirement savers are highly mobile, but their retirement savings are not. This disconnect, often referred to as friction, results in a massive amount of unnecessary cashout leakage. Put simply, it's very easy and tempting for participants to cash out following a job change, even if it's not in their best interest. By solving for friction, auto portability makes it much easier for participants' balances to follow them to their next employer-sponsored plan.

Who Benefits from Auto Portability?
Frankly, it's hard to find anyone who doesn't.
For 401(k) participants, seamlessly moving 401(k) savings increases retirement security by dramatically reducing unnecessary cashout leakage. Consolidation saves participants considerable time and money, as the number of accounts they manage decreases. Finally, as savers retire, consolidation eases the transition from saving to generating retirement income.
For sponsors of 401(k) plans, facilitating portability lowers plan costs as average balances increase, and consolidation reduces their fiduciary liability by decreasing the incidence of missing participants and uncashed distribution checks.
401(k) service providers benefit from a more-robust 401(k) system. The benefits are most obvious for providers with business models based on assets under management, but there's also good news for providers focused on account fees. Consolidation will generate increased plan efficiencies, incenting more employers to sponsor 401(k) plans. Auto portability could also convince plan sponsors in high-turnover industries to adopt auto enrollment features, confident they won't end up presiding over large numbers of small-balance, terminated participants. That translates into more active 401(k) participants.

The Vital Importance of Automation
There were many important prerequisites necessary to set the stage for auto portability, including regulatory guidance from the IRS (Revenue Ruling 2014-9) and the DOL (Advisory Opinion 2018-01A and Transaction Exemption 2019-02). However, automation is the true 'secret sauce' that makes auto portability a practical solution. That's because plan-to-plan 401(k) portability is typically quite difficult for participants to tackle on a 'DIY' basis, where they face confusing processes, nonstandard forms, and byzantine requirements to transfer their funds.

Enter financial technology. For terminated participants with small balances subject to their plan's automatic rollover provisions, auto portability was designed to fully automate the process of locating, matching and securely transferring participants' balances from an old plan to new plan.

When it comes to portability for larger balances where participant consent is required, current best practices utilize workflow technology to help manage the roll-in process and to isolate participants from its complexity. It's easy to see how elements of auto portability's automation could transform this process as well.

When you consider its importance, the 'auto' (short for 'automatic') in auto portability might as well refer to 'automation.'

Automated 401(k) Portability's Arrival
Since their inception, 401(k) plans have evolved to their present status as the primary private-sector retirement savings vehicle for millions of working Americans. Thanks to the intelligent use of automation, auto portability is now similarly evolving from an appealing idea into a reality. Going forward, the same automation that powers auto portability could eventually be applied to all participants, all balances and make an even bigger contribution to the retirement security of millions of Americans, enabled with a simple check of a box on an enrollment form.