Consolidation Corner Blog
Consolidation Corner is the Retirement Clearinghouse (RCH) blog, and features the latest articles and bylines from our executives, addressing important retirement savings portability topics.
---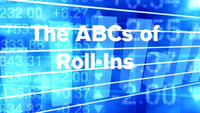 With the advent of the Department of Labor's Fiduciary Rule, more employers are looking to promote lifetime plan participation and encourage participants to consolidate retirement assets in their current, active 401(k) plan. The plan feature to enable consolidation in the active 401(k) plan is the roll-in contribution. Retirement Clearinghouse is the recognized thought leader in roll-in facilitation. We have prepared this video - The ABCs of Roll-Ins -- as a resource for plan sponsors who are considering a formal roll-in program, as well as offering a roll-in facilitation service for their plan participants.
Read More